Special Features Of R.O. Plant
» Plant design on latest state of art - european technology,compact, decent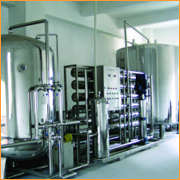 » We offered total imported systems
Sealed Packed IS0-9001 MEMBRANE- HYDRAUNATICS - California, U.S.A.
Micron Cartridge Filter Bag - AmeteK - Suziki - Japan
Anthrecite
» We offer our services for
Designing of the plant
Prompt after Sales Services
» We offer you different manufacturing stage wise inspection at our factory.
After fabrication of the unit,
At the time of assembling of the unit.
We can offer of you inspection while Fitting of sealed pack Membrane.
We offer inspection of fully installed and running plant for 3 days at our factory with testing.
» We are very close to you we offer best services. Besides our Technical Experts & Design Experts will visit frequently to your site for better performance.
» Also visit of our Foreign Associates - if required.
» SITPL, can offer Membrane Cleaning facility at its Factory, for enhancing life of Membrane Systems.
» Plant is designed on 10% Higher capacity & T.D.S. i.e. 2795 ppm, for better result in future.
» We can offer you 70% recovery of plant
» Maintenance Free Systems.
click here for more details >>