Manufacturer Exporter of Gel Earthing Electrode, Water Treatment Plant, Resins & Chemicals.

Commercial Reverse Osmosis System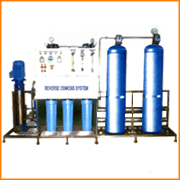 RO system provide the most reliable and economical solution for treatment of water. This technique can treat tap, brackish, sea & waste water to produce specific treated water quality for various applications. The models are standardised from 10 LPH to 15000 LPH flow and are suitable for domestic, commercial & industrial applications.